Church Events in August 2017
 Couples Retreat on 25-26th August (Friday-Saturday)
The much anticipated Couples Retreat was held on 25 and 26 August here. Both our Associate Pastors Rev. Ayub Chhinchani and Rev. B.N. Satpathy were the Resource Persons. On the opening day, we had nearly 55 couples who attended this Retreat. Mr. Paresh Das started with the Morning Devotion and topics dealt on this day were 'Purpose in Marriage', 'Key to Successful Marriage', 'Communication in Marriage' & 'Money Management in the Family'. After the lunch break, we had Group Discussion too which was very fruitful. Day 1 ended around 4:30 pm with Prayer by Rev. Ayub Chhinchani. Much to look forward to the 2nd day of this Retreat.
The 2nd Day of the Retreat was exciting too. We had some new couples who came on this day. The Morning Devotion was taken by Mr. Sandeep Kumar and then 3 other topics were taken by Rev. Bijoy Das (Spirit Controlled Anger), Rev. Ayub Chhinchani (Resolving Conflict in Marriage) & Rev. B.N. Satpathy spoke on Godly Parenting in the Final Session. All the Sessions were truly touching and meaningful. We had something to learn and put it into practice in our family life. The Retreatended with Q & A Session handled beautifully by our Panel of Experts. On the Panel were both our Associate Pastors, Church Secretary Mr. Paresh Das and Deacon Rev. Bijoy Das.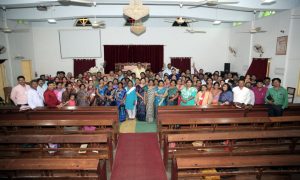 Remember, no marriage is a Perfect Marriage. We have to make it so by His Grace alone. Always keep Christ at the center of your Marriage. His Presence will help you build a Strong Marriage.
---
National Day of Prayer on 15th August (Tuesday)
With a deep sense of burden and passion in our hearts, we inititated this year on 15th August, the day of India's 71st Independence day as the National Day of Prayer. We Prayed for the Elite/Affluent Influencers of India. The call of this day was to Pray for a new move of God in our nation. We had a few brothers and sisters who attended this time of Prayer. Rev. Ayub Chhinchani shared a brief Word of Encouragement. It was from 11 am till 12 noon. May God be glorified and help everyone of us to have that vision to win souls for Christ.
---
Special Evangelical Meeting on 14th August, 2017 @ 7 pm (Monday)
There was a Special Evangelical Meeting held in the Church on 14th August (Monday) @ 7 pm where God's servant, Pas. Daniel Calvin shared from God's Word. He shared the Gospel by illustrating the story of Naaman and his transformation. We thank Pastor Daniel for ministering to the people on the eve of India's 71st Independence day. Those who attended were richly blessed.
---
'Be Ye Transformed' (Youth Retreat) on 14th August (Monday)
A lively Youth Retreat was held in the church on August 14 where Pastor Daniel Calvin from Mumbai was the resource person. He took two sessions (1st Session on Sin) and (2nd session on Life abundant with Christ) and our Associate Pastor Rev. B.N. Satpathy took the Morning Devotion. The Theme for this year's Retreat was 'Be Ye Transformed' taken from Romans 12:2. The Retreat began @ 9 am with soul stirring music by our English Choir. There was group discussion before the lunch break and in the afternoon, we had a wonderful time of Q & A session by our panelists. Lot of the queries put forward by the students were answered. We had nearly 290 young people who registered for the Retreat. It truly was a blessed time for everyone. Many young people gave their heart to Christ. We thank the Church for conducting such a wonderful and a life-changing Retreat for the youngsters. Let's continue to Pray for them as they grow spiritually with all the challenges of this world.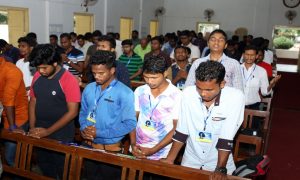 ---
Fasting Prayer on 12th August (Saturday)
Like every month, this 2nd Saturday on 12th August, we had a time of Fasting Prayer from morning 7 till afternoon 1 pm. We had many brothers and sisters who attended the time of Prayer. We Prayed for various issues like the Church, families, youths, for the ailing, for evangelism and for our nation as a whole. It was also the 26th anniversary of the Morning Prayer initiative. Rev. Dr. Nithaniel Supakar, our Church elder and one of the founders of Morning Prayer was present too. Both our Associate Pastors and other Church leaders led the time of Prayer. We thank those brothers and sisters who could make it to this fruitful time of Prayer. Please join us again next month.
---
Water Baptism conducted on 6th August (Sunday)
8 brothers and sisters were baptized in the Church on 6th August morning. Rev. Bichitrananda Satpathy conducted the Baptism process. They are sis. Jyotsna Rani Nayak, sis. Geeta Jairaj Mohanty, sis. Soumyashree Khosla, sis. Itishree Khosla, sis. Mridula Sarkar, bro. Prakash Chandra Nayak, bro. Alex Samantaray and bro. Samarpit Mohanty. They were accepted as full baptized members in the afternoon Odia Worship Service. Please remember these 8 brothers and sisters in your Prayers as they start their new spiritual walk in the Lord.
---