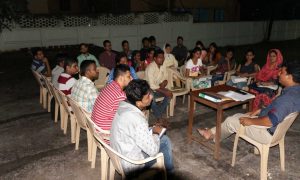 Rev. B.N. Satpathy taking the session on the "Consequences of SIN"
The momentous truth has never been clearer: we must get the Gospel out with all speed and intensity!
We must tell a lost and frightened humanity that there is hope, and His name is Jesus Christ, the Son of God!
We must tell lost and bound humanity that there is a way out, and His name is Jesus!
We must tell them that there is only one door through which they can enter and find peace of mind, peace of soul, and safety, and His name is Jesus!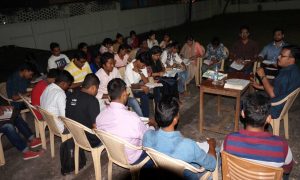 Mr. Sandeep Kumar taking the session on "Stewardship"
It's a call to action, saying that we as Christians have God in us and around us and we don't need to wait until we're old enough to make a difference in someone's life. Since Pentecost, we are not waiting upon God; but He is waiting upon us to make the first move in faith. The future is now, for us to go to our friends, neighbors and the world to tell them how amazing our God is! Never forget, this is the Clarion call of God for each one of you to stand out for JESUS in this Generation…We at Union Church encourage our youth to live for the Lord Jesus Christ. We have to win souls for JESUS at any cost. The Church cares for the youth as they are the future of the Church. Every 1st and 3rd Saturdays, the youth fellowship is taken by our Associate Pastors, Rev. Ayub Chhinchani & Rev. B.N. Satpathy. rest of the weeks, it is taken by other Resource persons. They are namely Mr. Paresh Das (Church secretary), Mr. Sanjeeb Das, Mr. Pratap Sahoo, Mr. Sandeep Giri, Mr. Sandeep Kumar & sis. Aniva Chand. These are days when the youth or Next Generation as we call them need to stand firm on the Word of God, so they can face the schemes of the devil and lead a victorious life in the Lord. Please do encourage the young people to come in large numbers and be blessed. We have programs for the youth on a regular basis. The Youth fellowship starts every Saturday at 5:30 PM. Topics related to the issues which the youths face today are discussed and many are greatly benefited by it.