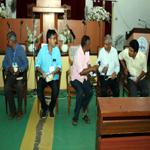 'Q & A Session' at Be Ye Transformed Youth Retreat, 14th August, 2017
In the 2nd half of the Youth Retreat on 14th August, 2017, we had a time of Interaction with the students and answered their queries.
On the Panel were Rev. Ayub Chhinchani, Rev. Bichitrananda Satpathy, Mr. Paresh Das, Mr. Sandeep Kumar and Mr. J. Manna Whitson.
Listen to this. Many of the youth related issues were touched.