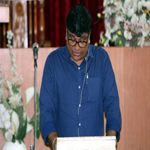 "True Life in Christ" by Pas. Daniel Calvin (Be Ye Transformed – II), 14th August, 2017
Pastor Daniel Calvin continued his 2nd session on the lines of Genesis chapter 3. His theme was '3 types of Life in Christ'. Once we receive Him in our heart, we can enjoy:
a). New Life (Complete transformation after being saved)
b). Abundant Life (Everyday walking with Christ)
c). Eternal Life (Assurance of Eternal Bliss with God).
Are you ready to accept Him today! Be Ye Transformed in Jesus' name.