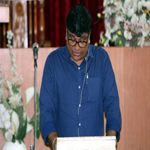 "Evil to Good" by Pas. Daniel Calvin (Be Ye Transformed – I), 14th August, 2017
Pastor Daniel Calvin spoke in the 1st session of the Youth Retreat from Genesis chapter 3, the fall of man.
You can be anybody in this world, but you need God. The only way to come to Jesus is to repent of your sins and be saved. Is your life in tune with God! Time for Retrospection.