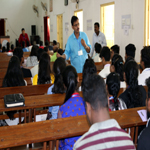 'Be Ye Transformed' Youth Retreat (14th August, 2017)
'Be Ye Transformed' (Youth Retreat) on 14th August (Monday)
A lively Youth Retreat was held in the church on August 14 where Pastor Daniel Calvin from Mumbai was the resource person. He took two sessions (1st Session on Sin) and (2nd session on Life abundant with Christ) and our Associate Pastor Rev. B.N. Satpathy took the Morning Devotion on the 4 stages of Transformation.
The Theme for this year's Retreat was 'Be Ye Transformed' taken from Romans 12:2. The Retreat began @ 9 am with soul stirring music by our English Choir. There was group discussion led by our Pastors and other youth and church leaders before the lunch break and in the afternoon, we had a wonderful time of Q & A session by our panelists. In the Panel were our Associate Pastors Rev. Ayub Chhinchani and Rev. Bichitrnanda Satpathy, Church Secretary Mr. Paresh Das, Deacon Mr. Sandeep Kumar and Mr. J. Manna Whitson from TWR. Lot of the queries put forward by the students were answered. We had nearly 290 young people who registered for the Retreat. It truly was a blessed time for everyone.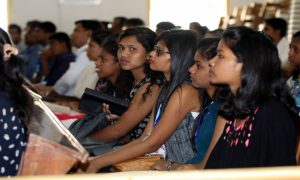 Ms. Aniva Chand and our Evangelist Mr. Pratap Kumar Sahoo were the Anchor persons for the day. Many young people gave their heart to Christ. We thank the Church for conducting such a wonderful and a life-changing Retreat for the youngsters. We thank everyone involved in the smooth conduct of the show. Let's continue to Pray for the youngsters as they grow spiritually with all the challenges of this world.
---