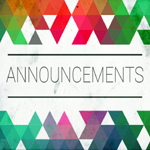 Sunday Church Notice (28th April, 2019)
Sunday Notice (28th April, 2019)
1).The Worship this Sunday morning was conducted by our Pastor Rev. Dr. Ayub Chhinchani, while newly appointed Pastor Rev. Songram Keshari Singh shared God's Word. In the afternoon Odia Worship, Pastor Rev. Dr. Ayub Chhinchani conducted the Service, while Rev. Songram Keshari Singh shared God's Word. Deacon Prof. Anup Samantaray preached God's Word in the C.S. Pur Worship center. Deacon Mr. Bibhuti Ranjan Sen preached God's Word in the Kalinga Vihar Worship center; while Rev. Rajendra Prasad Pani shared God's Word in the Sundarpada Worship center, where he conducted the Holy Communion subsequently.
In Jagatsinghpur area, our Evangelist Mr. Gobinda Sahu leads a small Worship on Sunday morning @ 10 am. We thank these servants of God for ministering to our various Congregations this Sunday.
---
2). Prayer for the sick brethren: 
Bro. Ajay Patra has developed cardiac problem and will undergo stent process soon
Sis. Manamani Singh is unwell
Sis. Sukesini Bera is unwell and needs our prayers
Little girl Sarah (daughter of our Deacon Mr. Sandeep Kumar) is having abdominal pain
Rev. Stephen Behera had a fall recently and has hurt himself. Pray for his recovery
5 month old baby detected with cancer is under treatment in Hyderabad
Mr. Rohini Kumar Sahu is unwell and suffering from old age problem
Rev. Oriel Singh had a successful bypass surgery on 19th March @ CARE Hospital. He was discharged from the hospital on 27th March. Please keep him in prayers for his complete recovery
Bro. Bhignaraj Routray from another faith (friend of bro. M. Pratap Kumar) is serious and under treatment
A sister is having pain in her lower back due to spine related problems and battling with high diabetes solicits prayers
Bro. Kiran Kumar Benjamin is suffering from cancer
Ms. Surekha Mallick suffering from cardiac problem is under treatment @ Hyderabad
Bro. Raj Pradhan in USA (elder brother of M. Pratap Kumar) suffering from GI Bleeding and Liver problems is under treatment
Sis. Nibedita Khora (wife of Dr. Pankaj Khora) is recovering following a stroke
A little boy having problem in his right eye solicits Prayers
Bro. Rabi Ranjan Rout is recovering from brain stroke in his home
Little child Saswat, son of Mr. Sarat Kumar Pradhan from Cuttack is having renal failure and is under treatment
Mr. Sushanta Pattnaik (brother-in-law of Rev. Susanta Patra) had two back to back brain surgeries in Mumbai recently. He is recuperating
Mr. Suvendu Panda underwent successful surgery for two blockages on 10th January, 2019
Little child (2.5 years old) is suffering from cancer
Sis. Mamata Burma from another faith is  suffering from cancer
Bro. Sandeep Patnaik of Jatni under treatment for cancer
Bro. Purna Chandra Behera (is suffering from Alzheimer's disease), dementia (neuro problems)
Pastor Lazarus has two blockages and his angioplasty has been done successfully
Bro. Susen Pani (brother of Rev. Sindhu Pani recuperating after a brain surgery in Hyderabad)
Sis. Amita Pradhan is under treatment for cervical cancer and is shaping nicely
Tasi Bhai of Cuttack is suffering from kidney ailment
A little boy underwent cardiac surgery @ Apollo hospital in November 2018. His name is Jiban; pray for his complete healing in  Jesus' name
Sis. Aruna Mohanty is under treatment 
Bro. Sonkhali Pani diagnosed with Motor Neuron Disease is under treatment
Bro. Sahansha Ahmed is battling with cancer
Mother of Binu (sis. Rosamma) diagnosed with cancer and is under treatment
Sis. Snigdha Mohan is suffering from neuro problems and is under treatment @ Kolkata
Bro. Akash Mandal is suffering from brain cancer and is under treatment
Bro. Pradip Patra from Cuttack is suffering from cancer
Bro. Peter Paul Sahayaraj from Paramakudi is suffering from spinal cord problems with severe neck, left hand, lumbar and back problems, not able to walk or work. 
Sis. Anita Suna is suffering from blood cancer
Bro. Sachidananda Behera is suffering from kidney ailment
Sis. Supriya Parichha, daughter of Pastor Subodh Parichha of G. Udaygiri is suffering from cancer and is under treatment
Rev. Chitta Ranjan Mohapatra of Sambalpur is suffering from stomach cancer
Little girl Tamanna is suffering from Cerebral Palsy
Sis. Puspita Gan is suffering from neurological problems (neuron motor). Her condition has not improved much.
---
3). The Weekly Church Prayer will be held tomorrow, i.e. 29-04-19 where sis. Leena Pramanik will be sharing her testimony with God's Word. Prayer will follow. Come and attend.
4). The Morning Prayer is held every day from 7-8 am in Church (except Sundays). Please join in this time of early Morning Prayer. You will be richly blessed through this fellowship.
5). The Youth fellowship is held on Saturdays @ 5:30 pm. We request all young people and especially those youngsters in the Choir as well as those who have taken Baptism recently to come and join in this fellowship. It will help them grow stronger in the Word of God as they face challenges and temptation of this world. Next week on 4th May, the session will be taken by our Pastor Rev. Dr. Ayub Chhinchani. We request all youngsters to come and be part of this fellowship held on Saturdays.
6). The Baptismal classes are held every Saturday @ 4:30 pm which is addressed by Pastor Rev. Dr. Ayub Chhinchani. Those who want to take up this classes may kindly get in touch with our Pastor.
7). A Counselling center has started to function in our church from Wednesday last. Any person belonging to any age can consult our counselors in the church from 6 pm on wards every Wednesday. We may not talk about it, but many of us have issues, both young and old – like broken relationships, youthful temptations, guilt, feeling of inadequacy, problems at the workplace, understanding the will of God and many more. We need counselling.
Those in need of counseling may come to the church and interact with our counselors led by our Pastors and Evangelists. We also request you to pray for this special initiative as it is of utmost importance to the congregation as well as the outside world.
8). We request you to pray to the Lord so that He may open the way for the extension of this building so that more people can come in and worship together.
---
9). CE UNION Announcements
a) The C.E. Union will be having their Weekly Devotion on Tuesday (30th April, 2019) @ 7 pm where bro. Thomas Pradhan will be sharing God's Word. Come and attend. 
b) The C.E. Union will be holding the Prem Nalini Das memorial inter-prayer zone Bible quiz competition in the church at 6:30 pm on May 14 (Tuesday). The questions will be from the book of Leviticus and Numbers (OT) and from the Gospel of Mark (NT). The Prayer Co-ordinators are requested to provide names of 2 participants from their prayer zones to the Secretary, C.E. Union, Mr. Amit Nayak.
c) The C.E. Union will be holding Revival Meetings in the church on May 28-29 @ 6:30 pm. The speaker will be Rev. Niranjan Turuk from Cuttack. The theme of the Revival Meeting is taken from Romans 12:2. The C.E. flag will be hoisted @ 8 am on May 28 by a senior C.E. leader.
---
10). As you are aware, the church has a system to facilitate the worshipers to pay their tithe or donations to the church. We have envelopes available with us which you may pick up from any Deacon after the worship, tick the boxes and hand over the same with the money to the Deacon and get the receipt immediately.
11). As you are aware, the church runs a SMS network among the worshipers to keep them posted about happenings in the church and important notifications. Till now, we were operating on a small scale and we could reach out to a limited number of people. Besides, we could post only one message in 24 hours. But we have moved to a platform where we can reach more people and send out any number of messages.
We request those worshipers who are not yet included in the list or who do not get the messages to kindly give us their numbers so that they can be included. You may write your name and cell number in the register provided outside after the worship.
12). We had started a special Prayer series for the districts of Odisha in both the Worship Services since 30 September 2018. Last week on Resurrection Sunday, we completed praying for all the 30 districts. Let us continue to uphold those districts and our State in our prayers. Let every person in every district hear the Gospel of Jesus Christ.
13). We request you to continue to pray for the large number of people who have been given the gospel through initiatives of the church in recent weeks so that they may come to know Jesus Christ as Lord and Savior in their lives.
14). The Adjourned Meeting of the Church General Body which was held in the church on April 24, 2019 discussed the modalities for selection of Church Board members. We had received suggestions from 65 persons and the meeting had constituted a six-member Committee to go into the matter. The members of the Committee are Mr. Sushil Kumar Deep (Convenor), Mr. Susanta Kumar Pradhan, Mr. Tapas Dey, Mr. Samarendra Pradhan, Dr. Prasanta Kumar Nayak and Ms. Aniva Chand. They will scrutinize the proposals and come up with a single proposal incorporating the suggestions provided by the members. The next meeting of the General Body in this issue will be held in the church on 8th May @ 7 pm. All the members and Associate members are requested to attend this meeting. Please keep this issue in your prayers. Let God's will alone be done.
15) The Vacation Bible School will be held in our church from May 13-20, 2019 and the classes will commence @ 6:30 am in the morning and conclude @ 9:30 am. A Meeting of the teachers was held in this regard on 29th March evening & 10th April. We request our worshipers to encourage their children to attend the VBS for their spiritual growth. The detailed program will be made known to you later. A meeting of the VBS teachers will be held in the church @ 7 pm on 1st May, 2019.
16). Mission is the heartbeat of the church. But, how serious are we when it comes to mission? Our church will be organizing Mission Sunday on 12 May, 2019. Let us pray and plan to have an effective program on that day which will invigorate our congregation into missionary work.
17). Our Associate Pastor Rev. Dr. Ayub Chhinchani has been promoted to the post of Pastor of our church. Rev. Songram Keshari Singh has been appointed (contractual) as Pastor and our Evangelist Mr. Sandeep Kumar Giri inducted as Associate Pastor (Youth and Mission). Please uphold them in your prayers as they prepare to lead the church spiritually ahead.
---
18). Please visit our Church website unionchurch.org.in and download our app 'union church bhubaneswar' on your Android and iPhones. You can also get the latest Church updates in our Facebook fanpage cocbhubaneswar. Do like us on this page. When you do, you will receive all the latest posts as you login to your Facebook account.
Please do subscribe to our You tube channel 'cocbhubaneswar' and click on the bell icon to receive the sermon updates on your smart phones or in your Gmail account.
You can also follow us on our Instagram page 'cocbbsr' where you can see pictures of all the latest  events @ COC.
Please do share this website and our media channels with your non-christian friends. The Lord will surely speak to hardened hearts as we have witnessed many miracles in the recent past. To God be all the glory
---
If you have a personal prayer request; you can mail it to our Pastor:
If you have a flair for writing, you can mail us your articles: