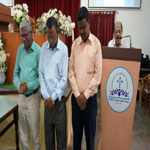 Pastoral Team (New Appointments)
Our Associate Pastor Rev. Dr. Ayub Chhinchani has been promoted to the post of Pastor of our church. Rev. Songram Keshari Singh has been appointed (contractual) as Pastor and our Evangelist Mr. Sandeep Kumar Giri inducted as Associate Pastor (Youth and Mission).
Please uphold them in your prayers as they prepare to lead the church spiritually ahead.
---