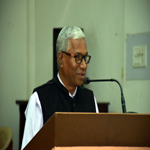 'The Power of His Resurrection' by Rev. Sangram Singh, (28th April, 2019)
Rev. Sangram Singh preached on the theme 'The Power of His Resurrection' from John 20:24-31 in the English Service. The Resurrection of Christ is an essential part of the Gospel message (1 Corinthians 15:1-8) and a key doctrine in the Christian faith. It proves Jesus Christ is the Son of God and that His atoning work on the cross has been completed and is effective.
There are 3 things we will see here what this Resurrection meant to His disciples then and what it means to us today???
I. From fear to courage (John 20:19-25): He came to them in His resurrection body; He reassured them by showing His wounded hands and side; He commissioned them to go out and share the Good News. We are to take His place in the world today; He also enabled them through the Holy Spirit.
II. From unbelief to Confidence (John 20:26-28): Why was Thomas not with the other disciples when they met on the evening of the Resurrection day? Perhaps Thomas was afraid that He doubted Christ. Doubt is often an intellectual problem; unbelief a moral problem. Thomas reminds us that unbelief robs us of blessings and opportunities.
III. From Death to Life (John 20:29-31): Why did John write this Gospel? So, people in every age could know that Jesus is God. The emphasis throughout the Gospel of John is on believing. The signs that John selected and described in this book are proof of the deity of Christ. Faith in His miracles should lead to faith in His word, and to personal faith in Jesus as Savior and Lord.
Let us never forget this: Jesus offers sinners abundant life; eternal life and He is the only way to Heaven.