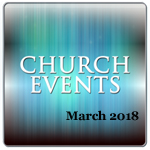 Church Events in March 2018
 Special Workshop on Outreach 

(17th March)
We thank all the brothers and sisters who joined the workshop on 'Taking the Gospel to those belonging to other faiths' held here on 17th March afternoon from 4-6 pm. It was organized by the Gideon's International. The Lord's servant Col. Navneet Chhabra was the Resource Person. It was truly a wonderful time of listening and learning the various skills of evangelism. Col. Navneet reiterated the fact that we are here on this earth with a purpose and that is to witness for Christ. Let us live with this mandate that the Lord has given to his followers in Matthew 28. We thank Gideon's International for organizing this workshop in our Church.
---
Chakshu-BSI Audio Bible Distribution to the blind 

(17th March)
There was an one-day retreat held at the Church of Christ (Union Church) on 17th March morning between 10 am to 1 pm. This program was organized by Chakshu, an organization who works for the blind in collaboration with Bible Society of India (BSI), Cuttack. Rev. Dr. Asish Patro, the Auxiliary Secretary shared the Word of God and exhorted 32 visually challenged people from various areas in Bhubaneswar. Dr. Bipul Patro shared medical tips on personal hygiene to the participants. 32 Audio Bibles, an excellent tool for the blind were distributed during the program. Among others were Rev. Bijoy Kumar Das, Mr. Milan Das, Mr. Sarat Singh, Mr. Bibhuti Ranjan Sen and Associate Pastor Rev. B.N. Satpathy were present. It was a wonderful program for the visually challenged people. Let us uphold them in our prayers so that the Lord leads them in the path of truth.
---
Dedication Service held for New Office Bearers (Maa Sabha) on 

11th March
The Mahila Sabha had its biennial election on 3rd March and the following persons have been elected to the posts mentioned against their names:
a). Ms. Sanjukta Sahu – President
b). Ms. Asima Pradhan – Vice-President
c). Ms. Kabita Das – Secretary
d). Ms. Sanchita Samantaray – Treasurer.
The post of Joint-Secretary is vacant for the time being. They were dedicated in the afternoon Odia Worship Service by Rev. Ayub Chhinchani. Before that the church also appreciated the work done by the previous office bearers of Mahila Samiti. Rev. Satpathy offered prayers for them. Let us pray for this new team as they take the Mahila Samiti in the right way forward.
---
Fasting Prayer held on 

10th March
Prayer is the heartbeat of any Church. Like every 2nd Saturday, the Fasting Prayer was held from 7 am till 12 noon. Various issues were prayed for on this day. It was a time of spending time at the feet of the Lord. Rev. Satpathy led the prayer, followed by other leaders. On behalf of the church, we thank and compliment all the brothers and sisters who attended the prayer. Please do join again next month for a time of prayer and fellowship.
---
Award to the Meritorious students 

(4th March)
As you know, the Church awards prizes to the best students appearing the class X and +2 exams. These awards are given by the families of late P.K. Behera and late C.R. Das. The awards for this year were presented to Miss Amrita Pradhan who secured highest marks in Class X and Miss P. Precious who topped in +2 exams. These awards were given by Dr. George Cherian, guest speaker for this Sunday morning. He also prayed for both of them.
---
Spiritual Revival Meeting 

(2nd & 3rd March)
A Revival meeting was held in the church in collaboration with Missions India on March 2 and 3, 2018 in which God's servant Dr. George Cherian preached. The meetings were held @ 7 pm on each day. We had a wonderful gathering on each day. On the 1st evening, Dr. George Cherian shared on 'His Grace Transforms' and on the 2nd evening, he spoke on 'Have Faith in God.' We thank Dr. Cherian and Missions India for organizing this meeting in our church. It was a blessed time for those present.
---