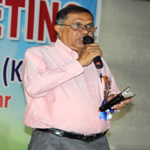 'His Grace Transforms' by Dr. George Cherian (Revival Meeting, Day-1), 2nd March, 2018
Dr. George Cherian preached from John's Gospel chapter 5:2-9. His theme was based on the background of the healing of a man who was invalid for 38 long years. The theme on the 1st evening was 'His Grace Transforms'. We are healed by His Grace alone. The Grace of Christ spoke 4 things to the man that day…
1). Get up
2). Pick up your Mat
3). Walk
4). Go and Sin no more.
He can transform you completely; if you are willing. Every addiction, every habit, every wrong relationship can be broken in Jesus' name. Give Him the chance in your life and see what His Grace can do.