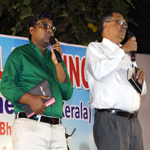 'Have Faith in God' by Dr. George Cherian (Revival Meeting, Day-2), 3rd March, 2018
Dr. George Cherian preached from Mark 11:20-25. His theme was 'Have Faith in God'. When we say we have Faith, we need to understand, do we truly trust God! We need to have Faith in the God of the Bible.
Many people today have faith in faith; but that doesn't work. When we trust God fully, miracle happens. As we live the life of faith, we should ask God to use our life for His glory alone. Are you bearing fruit for the Lord! Time to retrospect our life today.