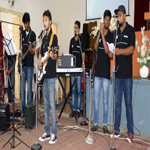 Youth Fellowship (28th March, 2020)
The whole world is going through probably one of the greatest confusions, challenge that is has ever faced in our generation. Never has there been such perplexity in our lifetime. And therefore the way we respond has to be different from usual. These are times when we need to pray to God for God's healing upon His people.
In this short exhortation this evening; Er. Sandeep Kumar deals with the theme 'Man's Depravity' taken from Romans 1:18-25. Ever since Creation, the perennial problem that is hurting man is 'SIN'. But, God has diagnosed the problem and there is a way out of it; still man ignores His Holy Word and lives life on his own terms. In this passage Paul leads them through 4 processes: a) Rejection; b) Separation; c) Domination; d) Condemnation.
Do share this with your friends (especially your non-Christian friends); they need to hear the truth during these critical juncture where human existence is at stake.