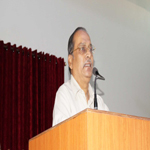 "Worldliness in Church" by Mr. Binoy Muduli (12th March, 2017)
Mr. Binoy Kumar Muduli spoke from 2 Timothy 3:1-8. His theme was "Worldliness in today's Church".
It is a very dangerous trend seen in today's Churches. Bible says in Titus, Worldliness is Unholy and being addicted to worldly pleasures.
Many people are carried away by the false doctrines which the Bible says will happen in the last days. Let us be aware of it & be prepared for Christ's return.