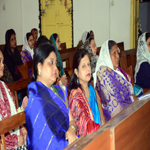 Women's Fellowship (Mahila Samiti), Fasting Prayer (28th March, 2020)
As we are shut in our homes due to the 21 days lock down period declared by the Government of India; this morning usually the ladies wing meet for their time of Fasting Prayer. Though we cannot be present physically in the church; we can be glued to the YouTube channel 'cocbhubaneswar' as we receive God's Word over here.
This Saturday, Rev. Songram Keshari Singh ministered to the ladies from the book of Ruth. The theme of his message was 'How we react in adversity?'.
Let's listen to this message and also share with our friends; it will be a blessing to them during this time.