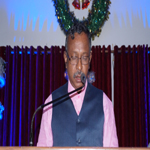 'Why Jesus Came?' by Rev. Dr. Ayub Chhinchani (23rd December, 2018)
Rev. Dr. Ayub Chhinchani preached on the theme 'Why Jesus came?' The Scripture portion was taken from Colossians 1:12-14.
There are 4 things we need understand why He came to this earth!
1) To make us qualified. To make us His own.
2) To share in His inheritance. It is not by your own efforts, but because of Christ's generosity.
3) To rescue from the bondage of sin; from the dominion of darkness.
4) To Redeem us by His Precious Blood which He shed for our sins on the Cross of Calvary.