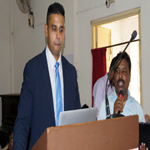 "Where did all the races come from?" by Mr. David Chakranarayan (Answers in Genesis Seminar, last session), 12-10-15
Mr. David spoke about the various races in this last Session and explained from where it came from!
It was a wonderful Seminar and Mr. David closed the Seminar with a lovely topic on a great day of learning from God's Word.
We believe the messages in AIG Seminar were really edifying for the Church!