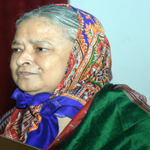 'What is life?' by Ms. Sanjukta Sahu, 24th November, 2019
Ms. Sanjukta Sahu preached on the theme 'What is life?' from James 4:13-17. This passage tells us that many times people plan on their own; but they need to realize that our life is short; it is nothing but just a vapor. We are here today; gone tomorrow.
Surrender your life to the Creator. Commit your ways to the Lord.