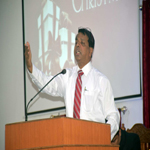 "Unique Savior" Christmas message by Rev. Sundar Singh Moses (25th December, 2016)
Rev. Sundar Singh Moses spoke from Matthew 1:18-25 in this year's Christmas.
His theme was "A Unique person JESUS". His birth and ministry on this earth was truly unique. Have we given place to this Jesus in our heart today? Time for retrospection.