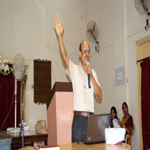 "Truth & Freedom" by Mr. Siddhartha Sahu (Set Free – Youth Retreat), final session (15-08-15)
Mr. Sahu's Final Session was based on How we receive True Freedom! The topic was 'Truth and Freedom'. At the end, he gave an invitation to follow Christ.
We hope the messages preached on 15th August would have touched many hearts!