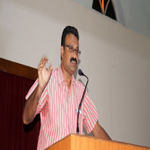 'Trusting in God' by Rev. Samuel Somalingam (22nd September, 2019)
Rev. Samuel Somalingam preached on the theme 'Trusting in God' from Psalm 34:4-10.
Are you fully trusting in HIM alone? You need to do four things if you are sure that you will get to heaven when you die:
a) Look unto Jesus alone
b) Trust Him and Him only
c) Fear Him
d) Take refuge in Him always.
He will not only rescue you from all dangers, but you will never have any fear of Eternity.