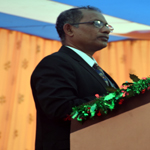 'The Savior's birth' by Rev. Finney George (Christmas Worship Service), Odia
Rev. Finney George preached on the theme 'The Savior's Birth' on Christmas afternoon Odia Service.
His birth was unique; His life was unique and His death and Resurrection cannot be duplicated. He came for you and for me so that we can be saved.