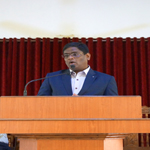 'The Purpose of God's gift' by Dr. Joseph Shields (Christmas Morning Service), 25th December, 2017
Dr. Joseph Shields preached this Christmas morning from John 6:36-40. His theme was 'The Purpose of the gift in the words of the gift'.
The Focus verse of this sermon…John 6:38 – (1st component): For I have come down from Heaven, it proves He was not created…but He existed before…He did not say I was made (a bold statement); the uniqueness of Jesus presented here. (2nd Component): not to do my own will, but the will of Him who sent Me.
There are 3S' here: The Shepherd (Luke 19:10), The Savior (Mark 2:10) and The Servant (Matthew 20:28).
Let the mind of Christ be in you and live to glorify your Creator always.