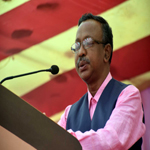 'The Promise of Lord's Return' by Rev. Dr. Ayub Chhinchani (15th July, 2018)
Rev. Dr. Ayub Chhinchani preached from 2 Peter 3:1-13. His theme was 'The Promise of Lord's Return'. As a believer, the coming of the Lord helps us to do 2 things:
a). To live a Set Apart (Holy Life) in this world.
b). To serve God with passion in our hearts. It affects our behavior. We need to be serious, humble and prayerful.
5 signs can be seen in them who believe in the Second Coming of the Lord:
i). Seeking to live like Jesus christ. (to live a pure and Christ-like life).
ii). Such people are more concerned with Eternity with Christ than living carelessly in this world. Live a life to glorify Jesus.
iii). Such people must have a burden and passion for lost souls as God doesn't want anyone to perish.
iv). Such people are always on the guard so as not to be carried away by lawless men.
v). They grow more and more in His Grace and Knowledge of the Truth. Do you truly know Jesus!!!