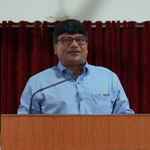 "The Lord's Prayer" by Pas. Daniel Calvin (13th August, 2017)
Pastor Daniel Calvin preached from Matthew 6:9-13. His theme was based on the Lord's Prayer which we have learned from childhood.
Always remember the words of the Lord through this Prayer and mold your life on it. He is our Heavenly Father and He answers our Prayers when we Pray in Faith. God Bless you all as you hear this message.