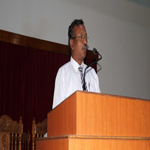 'The fear of the Lord' by Rev. Ayub Chhinchani (18th February, 2018)
Rev. Ayub Chhinchani preached from Proverbs 1:7-9. His key verse was v.7, 'The fear of the Lord is beginning of Wisdom'. We need to understand 3 things as we read this verse.
1). The Fear of the Lord is Reverence/Respect for your Creator.
2). Beneficial results of Fearing God.
---
a) Beginning of Wisdom
b) Motivates people to Holiness
c) It promotes Life
d) It produces a strong sense of Security
e) It produces Life
f) It makes all of life better.
---
3). What is you Decision today! If you fear Him, then only you will honor Him truly. Do you listen to His heartbeat today! Time to ponder.