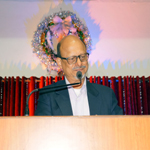 'The Attitude of Gratitude' by Mr. Siddhartha Sahu (31st December, 2017)
Mr. Siddhartha Sahu preached from Psalm 103:1-5. His theme was on 'Leadership and Humility'.
One question we need to ask ourselves. With what attitude should we say Goodbye to the year gone by and with what attitude do we welcome the new year!
1) Let us retrospect our own hearts! And we will have to confess that many times we have forgotten the blessings of God in our life. Many times we have been ungrateful before the Lord. and also many a times we have not worshiped Him in the way we should.
2) We must repent of our old life. Turn away completely from that life and turning our face towards God.
3) By Prayer, let us once again commit our lives to God. And Pray that the Lord fills our hearts with love, gratitude and Praise.