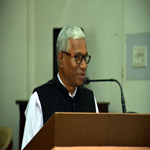 'Surrender' by Rev. Songram Keshari Singh (24th March, 2019)
Rev. Songram Keshari Singh preached on the theme 'Surrender/Total Dedication'. The Scripture portion was taken from Romans 12:1-2. There are 3 things we need to consider deeply when we Surrender our life to Christ. Jesus demands our everything. We cannot say we are following Him, when we have surrendered only partially. We need to…
1) Surrender our body as it is the temple of the Living God.
2) Surrender our mind totally to Christ and be renewed mentally.
3) Surrender our will to Him. It should be only His will in our lives.
That is true Christian life when we understand that we are in a relationship with our Living Savior and dedicate our body, mind and will to Him in totality. May His Grace be upon your life.