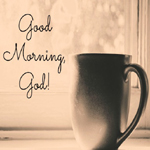 Start Each Day With God – Morning Inspiration to Motivate Your Day
Whenever you start your day you need to start it with God. Get up early and take care of the hard tasks. David got up early the day he slayed Goliath. You're not going to slay your giants lying in bed hitting the snooze button.
When you learn to set your mind on God each morning, He'll give you all the strength and wisdom you need to conquer the day. Watch this video. It will surely be a blessing.