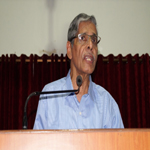 "Return to the Lord" by Mr. Samuel Patro (22nd October, 2017)
Mr. Samuel Patro spoke the book of Joel 2:1-2 & 12-17. His theme was 'Return to the Lord' as 'The Lord's Day is near'. That was the main theme of Prophet Joel's message. Joel means 'Jehovah is my Lord'.
We live dangerously today. We live in a society where there is dangers on every side. But, we have a hope; we are not alone as our Immanuel God is with us.
As God gives us this assurance in 2 Chronicles 7:14 'if my people will humble themselves, and pray, and seek my face, and turn from their wicked ways, then I will hear from heaven, and will forgive their sin, and will heal their land.' May God bless us all.