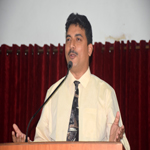 'Recognizing & Countering False Prophets' by Rev. B.N. Satpathy (11th March, 2018)
Rev. B.N. Satpathy continued on his series from the book of Deuteronomy. This week, the passage was from Deuteronomy 13:1-8. There are 6-ways we can recognize false prophets:
1). Check if their prophecy is fulfilled or not!
2). By what Power do they Prophecy!
3). They believe Salvation is possible without Christ!
4). They compromise with sin and the world and do not pay heed to righteousness.
5). They love money and are after power.
6). They do not give importance to the teachings of Christ.
We can counter them by not believing in their words/teachings; by not having pity on such people and encouraging them in our homes; by not concealing their identity to others; last but not least, we should be deeply rooted in God's Word to test their motives.