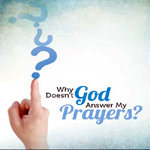 REAL CLIP: Why are my prayers not answered?
From Pastor Jeff Schreve's message, WHEN THE IMPOSSIBLE MEETS GOD, listen as Pastor Jeff explains when you can expect God to pour out great blessings into your life.
We need to trust God fully at all times. Without faith, it is impossible to please God.