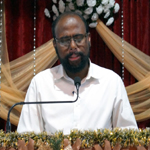 'Qualifications of a Disciple' by Rev. Hemant Pani (25th August, 2019)
Rev. Hemant Pani preached on the theme 'Qualifications of a true disciple of Christ' from Luke 14:25-35. There are 5 qualifications for a disciple in Christ.
1) We need to love the Lord God more than anyone else.
2) We must bear the Cross and follow Him.
3) We need to sacrifice everything for Him and follow Him.
4) We need to have love for one another to be His true disciple.
5) We need to bear fruits in our life bringing Him glory and honor.
6) We need to be a soul winner for Jesus Christ. Let us be a true disciple of Christ. Let people see the good works in us and glorify our Father, which is in Heaven.