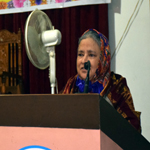 'Prepare to meet thy God' by Ms. Sanjukta Sahu, (18th November, 2018)
Ms. Sanjukta Sahu preached from Amos 4:6-12. Her theme was 'Prepare to meet thy God'. The Bible clearly mentions that God gives warning to His people time and again. We need to come to Him before it is too late.
Repent before your Creator and come to Him in faith. There is no one like Him. Today, does the world recognize you as a Christian? Are you living for the Savior? Let us retrospect our lives in accordance with God's Word.