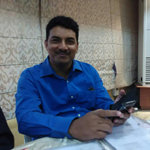 'Practice 3L Imperatives (Shema)' by Rev. B.N. Satpathy (1st October, 2017)
Rev. B.N. Satpathy continued on his series on the book of Deuteronomy. The Scripture was Deuteronomy 6:4-9. His theme was 'Practice 3L Imperatives (Shema) in your life'. They are
1). Learning – Lord, our God is one. There is none like Him
2). Loving – God alone. Love Him only and none deserves to be loved more
3). Leading – Lead your children by example.
Receive the Word of God with humility and gladness and live your accordingly to be blessed by the Lord abundantly.