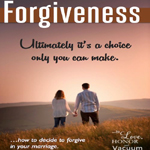 Peace returns in our Marriage

I Forgive You Dear
---
I don't want to disclose my name or family. Me and my wife are married for 8 years. We stay in Gurgaon. We belong to a respected Christian family. Even after 8 years of our marriage, we have no children. There is tremendous pressure from within our family for this. Because of this issue, our relationship was strained too. Since last 4 months, we were staying under one roof, but were not on talking terms.
Not having children was the greatest setback for me. I heard this message on 14th February, 2017, which happens to be Valentine's day. As I heard this, a kind of peace filled my heart. I send the link to my wife; who saw it on her smartphone. That night, she came to me and for the 1st time in nearly 4 months, we smiled at each other. There were tears in our eyes; we hugged each other strongly and I was the first to say sorry. She also said the same and we both knelt and prayed. We confessed our sins before God and on 14th Feb night, we started our married life afresh. I thank God for restoring our marriage.
I Praise God that we both could hear this message as it touched us both. Today, we feel so light and relaxed and have surrendered everything to God. If it is His will, we shall have children. Do Pray for us and for the miracle that we are looking for! May God use your Church to be a blessing for many through this website.
---
A couple | Gurgaon