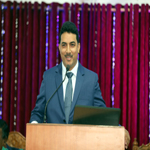 'Overcoming Spiritual Insensitivity & Apathy' by Rev. B.N. Satpathy (21st October, 2018)
Rev. B.N. Satpathy preached from Ezekiel 37:1-14. His theme was 'Overcoming Spiritual insensitivity and apathy.' There are 3 things we need to understand here in order to overcome spiritual insensitivity:
a) Reading and meditating the Word of God
b) Allowing the Holy Spirit to take control of our lives and transform us
c) Believing in the plan and promise of the God of restoration.
Stay blessed in God's Word.