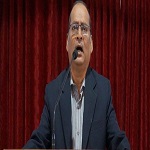 'Open my eyes O' Lord' by Mr. Binoy Kumar Muduli, (10th February, 2019)
Mr. Binoy Kumar Muduli preached on the theme 'Open my eyes O Lord' from Ephesians 1:15-19. How is our Prayer life today? We have to go to deep water. Moving from Ordinary Prayer to Quality Prayer. As a believer in Christ; 3 things are mandatory that we ought to possess:
1) The Holiness of God (It is one thing you can't do without). We need Holiness individually, in our family and in our church life. It makes our life strong and dynamic.
2) Try to have love for others. It is essential for every believer. We need His supernatural love to love others.
3) The mission work of God: Without the enlightening of our eyes, we cannot look at missions as God sees. Let us remember one thing; if we will be carnal minded than prayer will not work.