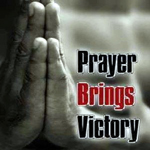 ONE OF THE BEST CHRISTIAN MOTIVATIONAL VIDEOS EVER ( MUST WATCH!!!)
This Video Can Change Your Life Watch Before It's To Late!!
Be a prayer warrior! A warrior that fights on your knees! Always be in prayer, pray without ceasing! (1 Thessalonians 5:17)! In serious situations pause to pray! Prayer just don't changes things but prayer changes "EVERYTHING!" The devil only wins when U don't fight!