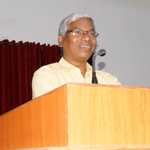 Odia Worship Service (29th March, 2020)
Let us watch the Odia Worship Service. The Worship this afternoon was conducted by Rev. Dr. Ayub Chhinchani and Rev. Songram Keshari Singh shared frrom God's Word. The Scripture portion was taken from Zephaniah 2:2-3.
Today's theme was 'A Call to Repentance'. Many times in this book, the Day of the Lord is mentioned. So, when that day comes, are we prepared; and what should be our responsibility?
It is time to Retrospect our lives in the Light of God's Word.