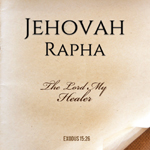 No sickness can stand in Jesus' name
Jehovah Rapha has Healed me completely
My name is J. Fernandez. I am from Vasco da Gama, Goa. I am a believer in Christ Jesus, but since the last 1 hour I am suffering from mouth cancer. My family is shattered because of this. I am under medication and have done surgery twice. There has been improvement on some days and then other days, it is the same story again. Even though my family believes in the Lord and we pray, but due to this illness, we had lost hope. I have a daughter who is 8 years old and she too has been staying very depressed of late because of my illness. Just last month on 4th November, 2017, I was introduced to your church website by a friend of mine who stays in Bhubaneswar. I used to visit it sometimes. Then on 10th November, he gave me a link to a video in your Inspirationals Section. I clicked on the link and watched this video. I watched it over and over again. It was about Benny Prasad, a musician who lives for Christ and shares His love to the world through music. I had never heard about this man used so powerfully by Jesus.
I was totally stunned the way the Lord used this man's life who contemplated suicide at the age of 16 years because he had so many physical abnormalities and was disliked everywhere. I knelt down with my wife and said, if you can use Benny, use me Lord. Only you can transform my life and heal me. Lord, I claim your promise, 'by your stripes, I am healed in Jesus name'. Lord, I don't want to stay defeated anymore. I want to surrender my everything to you. That night as I lied in my bed, I could hear the voice of the Lord clearly. A peace filled my heart. I said Lord; I am going to be obedient to your call from this moment. No matter as long as I am alive, I will serve you. My wife was in tears too. We recommitted our lives to Jesus.
After a few days on 15th November, we had a check-up and we went to the doctor. After all tests were over, as we were waiting in the lounge; my doctor called me. He said, Mr Fernandez, I was amazed to see this report. You are in the last stage of your cancer and your last month's report was very critical. I had said there is no hope for you. But, the tests today are showing that there is no trace of cancer and we had a cross examination with another specialist and the report was the same. Praise the Lord. I shouted praises to the Lord Jesus and testified that my Savior has healed me completely. The doctors were amazed at this. Surely, the Lord is the greatest healer. From a life of no hope, today I am living a normal person's life with no trace of cancer. I have shared this testimony in many churches and started to witness for the Lord. My Jesus has healed me no doubt, but that video of Benny transformed my life in restoring my faith in Jesus. My daughter has started to witness for the Lord in her school about what Jesus has done in her daddy's life. I want to thank your union church website from the bottom of my heart. I have introduced many non-Christian friends to this site and will continue to do so. All glory be to God alone. Live for the Saviour.
Thank you all. Keep my family in your prayers.
---
J. Fernandez | Vasco da Gama, Goa