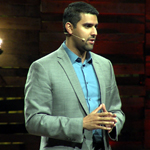 Nabeel Qureshi: A Short Testimony
Nabeel Qureshi's Testimony. This video was recorded and edited by Muslim Journey to Hope, a ministry that records the stories of Muslims who left Islam for Jesus. This particular clip shows the story of Nabeel Qureshi, and Ex-Muslim, and how he came to accept Jesus as his Lord.
Due to time constraints of the video itself, his testimony is cut (the original video was an hour long) and significant editions have been made. Thus, the testimony is not 100% accurate as presented, but is sufficient in its gist.