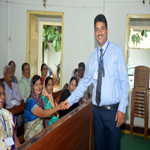 "Money Management in Family", Couples Retreat (Session 4) by Rev. B.N. Satpathy (25-08-17)
Rev. B.N. Satpathy spoke in the last Session of the 1st day on the subject of 'Money Management in the Family'. He spoke on the Biblical View of Money from 1 Timothy 6:6-18.
We should never forget that God has given us everything. We should be truly content with what we have. We must give back to God and be honest with our money.
We should always spend our money wisely and carefully and both the spouses should use it to within the budget and Glorify God.