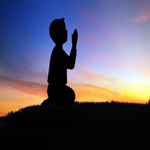 Monday (Weekly Prayer Service), 27-04-2020
The Weekly Monday Prayer Service is scheduled today @ 7 pm. Rev. Songram Keshari Singh is sharing God's Word from Mark 16:7 on the theme 'Do you enjoy Christ's fellowship?' This is the last part in his series from this verse on the Gospel of Mark. Let us enter into fellowship with Christ.
As we are in this lock down period, do we spend enough time in God's Word. He enjoys our fellowship and we are made to glorify Him in and through our lives. Take a listen. Stay blessed in God's Word.