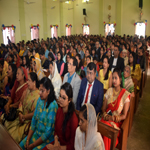 Moments – 2019 (A must watch)
2019 is gone by. We are 12 days into 2020; but God's Amazing Grace has carried us all during the last year. As a Church, the Lord has blessed us with many blessings. Let us thank Him for His mercies which are new every morning.
Watch this video and share it with your friends too.