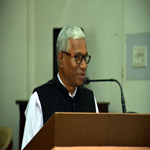 'Life after Death!' by Rev. Sangram Singh, (23rd September, 2018)
Rev. Sangram Singh preached from Luke 16:19-31. His theme was 'Life after Death.' He was preaching from the well known passage of the Rich man and Lazarus. Here Jesus is telling the people there is a life after death. How you should be prepared to meet thy God!
a) You will survive death in a conscious spirit and mind.
b) Some will enjoy life after death; but others may not.
c) What you have done in your life till death, will decide how you spend your Eternity.