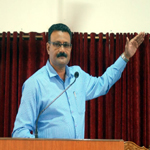 'Levels of Faith' by Rev. Samuel Somalingam, (10th March, 2019)
Rev. Samuel Somalingam preached from three portions from Matthew's Gospel: they were Matthew 15:21-28; 14:31 & 16:8. The theme of his message was '2 aspects of Faith'. The First Aspects:
1. Faith is bold, shameless and importunate.
2. Great faith endures silence of God.
3. Great faith is humble.'
4. Great faith endures/persevere the time of testing.
5. Receives what we ask if it is in His will!
Are you growing steadily in the Grace of Christ? Which level of faith are you in?
Second Aspects:
1. Being a disciple of Christ, doesn't necessarily mean strong faith!
2. Mere knowledge of God's Word doesn't indicate strong faith!
3. When we focus too much on the promises, we will lose focus on the Promise Giver.
Remember, God doesn't give up on us just because we are of little faith. He is fully aware of what we can become with His Grace.