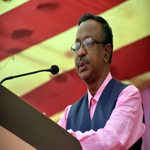 "Knowledge v/s Wisdom" by Rev. Ayub Chhinchani (2nd July, 2017)
Rev. Ayub Chhinchani continued on his series from the book of James. Scripture portion was from James 3:13-18. His theme was 'Knowledge v/s Wisdom'.
Do you depend on your own wisdom/God's wisdom! We need to understand the 3 O's of Wisdom:
a). Origin of wisdom
b). Operation of wisdom
c). Output of wisdom.
Stay Blessed.