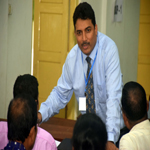 "Key to Successful Marriage" Couples Retreat (Session 2) by Rev. B.N. Satpathy (25-08-17)
Rev. B.N. Satpathy spoke in the 2nd Session on 'Key to Successful Marriage'. Here are the 10 keys to a successful and healthy Marriage:
1). Never utter the word Divorce even when you are angry.
2). Intense disagreement doesn't mean there is trouble in your marriage.
3). Don't insult your partner privately/publicly.
4). Practice complementing each other sincerely and often.
5). Never smother each other – set your Love free.
6). Learn to say Sorry, Forgive and mean it.
7). Never shut each other out – be open at all times.
8). Make a conscious effort to keep the joy flowing.
9). Never turn to a third party in times of trouble.
10). Consult Christ and the Word of God about every detail of your Marriage.
May God Bless your family…