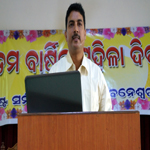 'It is Finished' by Rev. B.N. Satpathy, (2nd September, 2018)
Rev. B.N. Satpathy preached from John 19:30. His theme was 'It is Finished'. It is not the last, but the 6th saying of Jesus Christ on the Cross of Calvary. It is not a cry of defeat, but a cry of victory.
So, what is really finished/accomplished?
1) The Suffering of Christ is Over.
2) The Salvation Work is Finished.
3) The Power of Satan is Finished.
Today, we don't have to work for our Salvation, but Christ has given us freely. He has purchased us by His precious Blood on the Cross. All we have to do is have Faith in Jesus Christ and be saved. He will renew us and revive us and give us a brand new life. Are you saved? Come to JESUS today.